3D Printing
Customer: 
Interior Designer who Creates Unique Interior Products
Tool: 3D Sand Printing
Customer Since: 2022
Project Snapshot: We received a request from a client to create and cast an inspirational 36" medallion in aluminum.  The client asked us to bring to life an old medallion originally casted in iron to a new aluminum medallion for display on a wall of their home.  We re-created the medallion digitally.  After the image was approved, it was then engineered digitally so that we could make a mold via a 3D sand printer.  With the mold in hand, we did (2) continuous pours for each of three 36" medallions.  With this method, we saved at least 12 weeks of time waiting for a pattern to be made.
Customer: 
Commercial Pool Builder, North America 
Medium: Brass
Customer Since: 2022
Project Snapshot: A & B showed up on a Google search for this new customer who needed custom depth markers to meet code for a commercial pool build.  The client was renovating a historic commercial pool.  In addition to brass depth markers, he wanted brass skimmer lids sets.  Wanting to meet the esthetic feel for the client, he found an inspirational rail design online and the owner added insight that resulted in the end design.  A pair was ordered.  We facilitated the fabrication of the rails, based on the custom design.  The resulting left and right pair were simply spectacular.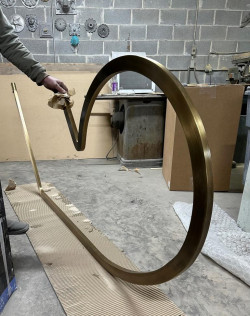 "Details make perfection, and perfection is not a detail." – Leonardo Da Vinci